Most have heard of Cavity back irons but are still unclear about what makes the best cavity back irons.
Many golfers will tell you that the best cavity back irons are forged. This is partly true, but it doesn't define cavity back irons. The term literally means there is a cavity or a cutout in the back of the iron.
This club head design has opened up many opportunities for golfers looking to improve but don't have hours to spend on the range. With the best cavity back irons, you can increase your distance and straighten your shots with their forgiving nature.
This design can help a wide range of players lower their scores without changing their swing mechanics. No matter your handicap, the best cavity back irons to improve your game is listed below.
Cavity Back vs. Muscle Back
These are two very distinct iron designs, and you can tell the difference just by looking at them. Muscle back is primarily for low-handicappers who rarely miss the sweet spot. These are widely used on tours around the world, and your local pro may even be using them.
Muscle back provides low-handicap players incredible feedback, so they know precisely how they hit each shot. It's advantageous to know exactly how they hit each shot so that they can focus on it during practice.
The best cavity back irons are more forgiving than muscle back. Players will still get great feel and have a lot of control but with added forgiveness and increased distance.
Here are a few more key distinctions;
Cavity Back Irons
Perimeter weighted for off-center hits
Wider sweet spot
Easier to hit longer irons
Minimal feel in shorter irons
Muscle Back Irons
Usually forged from one piece of metal
Majority of weight sits behind sweet spot and lower
Excellent feel in shorter irons
More difficult to have consistency in longer irons
Harder to hit from rough
The Best Cavity Back Irons Are Great For These Types Of Players
Two types of players will benefit most from the best cavity back irons;
A) High-Handicappers
B) Slow Swing Speeds
High-handicappers will be grateful for the added forgiveness. There is not as much pressure to hit the sweet spot with a cavity back iron. The weight is spread out around the perimeter of the face, which dulls the sweet spot slightly, but electrifies the area around it.
Slow swing speed players will add distance to each club immediately. The perimeter weighting allows the face to be thinner and, therefore, more springy. It turns the clubface into a trampoline. Find a cavity back set with a wide sole, and you will see a massive difference in your distance from any lie on the course.
What Is A Combo Set?
A combo set is a complete set of irons that combine the best muscle back and the best cavity back irons. For example, one set may consist of cavity back irons from 3-7 and then have muscle back designs on the 8-PW. Other sets may have a cavity from 3-6 and muscle for 7-PW; it's up to the player.
The idea is to utilize the forgiveness features of best cavity back irons in your harder to hit longer irons and use the precision of muscle back irons for your shorter, more accurate irons.
Many tour pros are adopting this strategy, and companies are making it easier to customize your set this way.
In-Depth Product Review
#1 Mizuno JPX921 Tour
– Forged in their factory in Japan for incredible feel and feedback
– Narrow soles on shorter irons improve shot-making ability
Experienced players will not be surprised to see a Mizuno iron at the top of the best cavity back irons list. They are known for their irons and have made top-of-the-line clubs for decades.
Many tour players use Mizuno irons, although you wouldn't know it because Mizuno doesn't pay them. Players have passed up huge equipment contracts to play these irons because they know how well they perform.
All Mizunos are made in their factory in Japan. This makes it easier to control the quality, so you know that every Mizuno club you buy has met its high standards.
Mid-low handicappers will benefit from this forged design as it allows players to get more feel for each shot. This is a huge advantage because it will help you identify where your mishits were so you can correct them easily.
Another excellent design feature is the thinner soles on shorter irons. This is great for improving turf interaction and helps prevent mishits off the fairway. These irons glide through the grass effortlessly and give you complete control over your shot shape.

– Power Hole 2.0 allow for more forgiveness and greater distance off the face
– Lower center of gravity to increase launch angle and steepen the angle of descent
Wilson is another veteran in the iron-making game that many people do not give enough credit to. They still have the record for most majors won by an iron company since they made irons for everyone throughout the middle of the last century.
Players such as Arnold Palmer, Jack Nicklaus, Ben Hogan, and Sam Snead all played Wilson irons, so with that kind of experience, you know you're getting an elite product.
The D9 is excellent for mid-handicappers who are looking to become low-handicappers. Although this iron is a bit bigger than other forged irons, it has a thin topline and very minimal offset to create the feeling of a slick blade.
The biggest breakthrough in technology on these are what Wilson calls "power holes." They are small holes behind the face that are filled with urethane. This enables the face to flex more, resulting in more forgiveness on off-center hits and more distance on centered strikes.
These irons also have a lower center of gravity than other cavity back irons. This helps mid-handicappers get a higher launch angle to maximize distance. With this trajectory, your ball will also come down on a steeper descent angle, giving you stopping power on even the fastest greens.
– Oversized heads maximize forgiveness and straighten crooked shots
– New A.I. face construction process is the first of its kind to add distance to all shots
For high-cappers and players who struggle with swing speed, Callaway could be a big help to you with these best cavity back irons. The 'OS' stands for oversized, which translates to forgiveness.
Being oversize straightens your off-center hits and will still add yards to your shots. When you hit the sweet spot, you'll notice a significant difference in length, and it may take a few rounds to figure out new yardages for each club.
Callaway's patented A.I. Flash Face Cup technology has worked very well in their drivers, and now we see it successfully used in their irons as well. This process creates different thicknesses across the back of the face to optimize distance and direction no matter where you strike it.
If these are some of the best cavity back irons, why doesn't everyone use them? Great question. With this style of 'game improvement' irons, you give up any kind of feel. Most shots will feel the same, and you won't be able to tell where you made contact.
But for amateur golfers who are just looking to enjoy their afternoon on the course and steal a few skins, these irons are worth considering.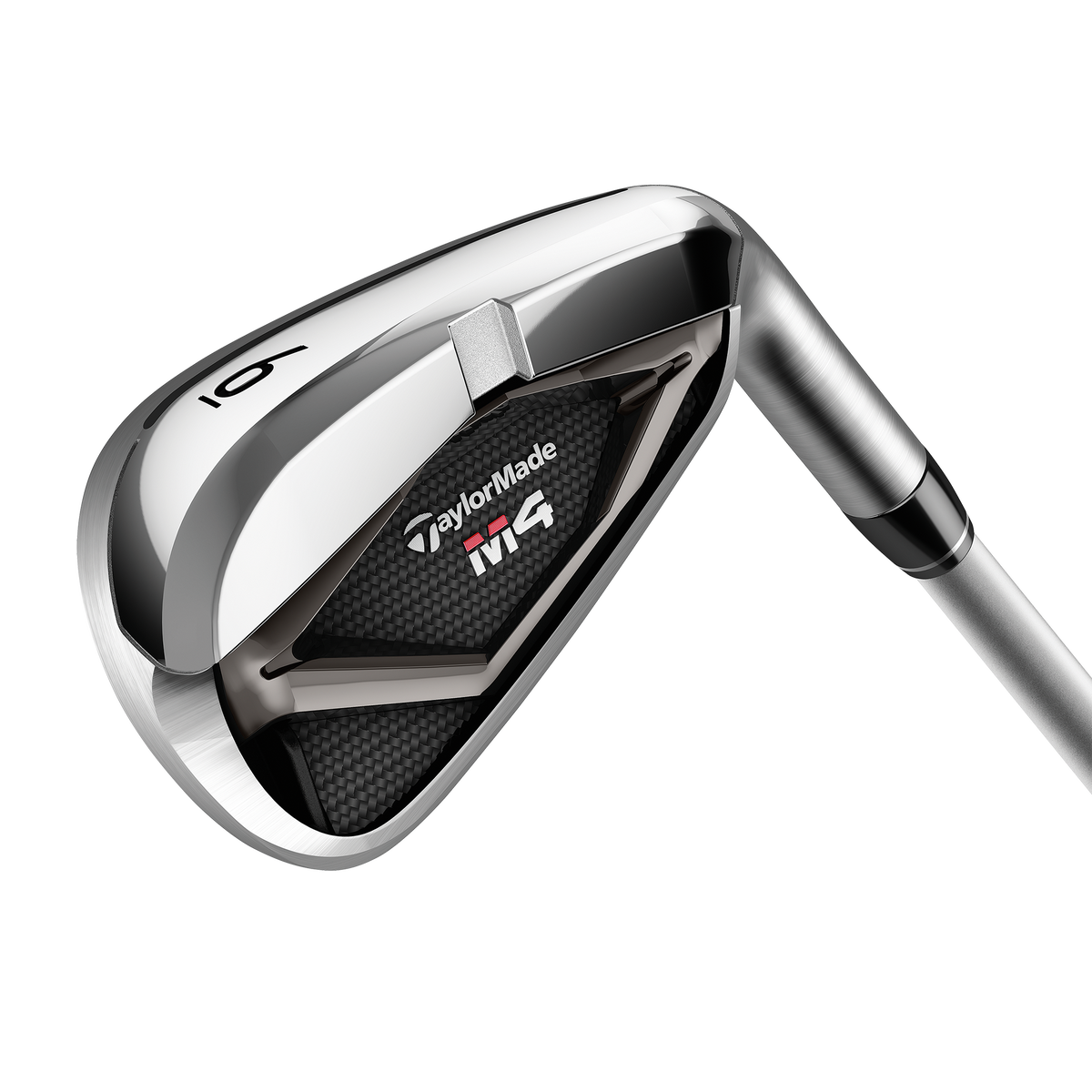 – Speed Pocket design improves launch angle and distance on off-center hits
– Optimized heel-to-toe weighting provides maximum forgiveness
These are among the best cavity back irons because they're great for high-handicappers and slow swing speeds. The design is unique in that it focuses on adding distance to all your off-center strikes.
On the back of each iron, you can see Taylor Made's Speed Pocket that is there to add lift to shots you may have struck on the bottom few grooves. Adding loft on these shots will prevent your thin shots from being too damaging.
The leading edge has also been thinned to help you get to the bottom of the ball more often. With the speed pocket and thin leading edge, your thin shots won't put you out of the hole anymore.
To ensure those shots go straighter, TM has optimized the heel-to-toe weighting system. Doing this increases your moment of inertia (MOI), which means your club will twist less at impact. The strategic weighting system will straighten your shots and keep you on the short stuff no matter where you make contact.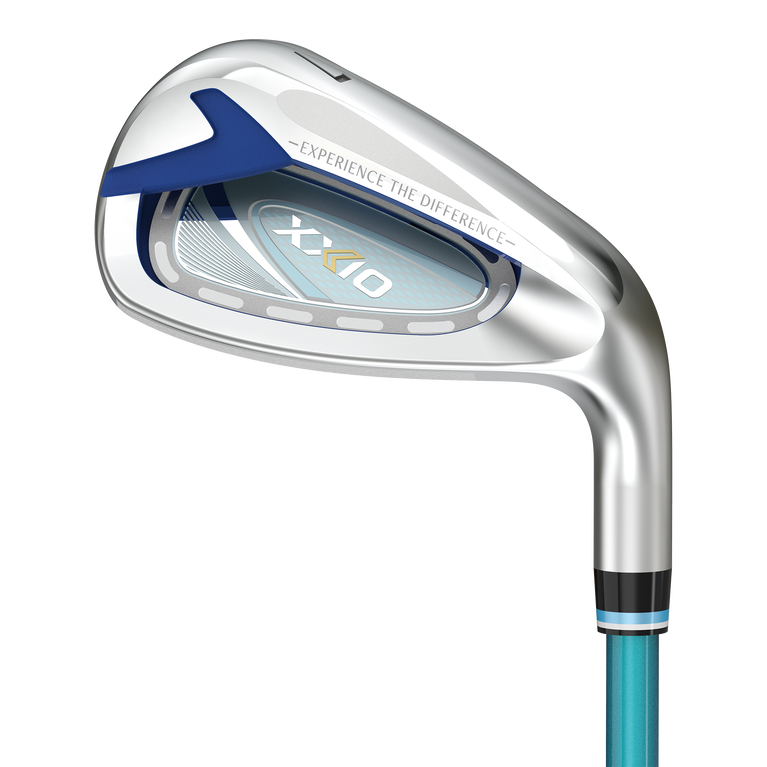 – Extra strong and thin titanium face for more distance on all shots
– Tungsten weights in longer irons will increase forgiveness and consistency
The best cavity back irons for women are the XXIO Twelves. They suit a wide range of players but are best for helping a high-handicapper become a mid-handicapper. They have great feel and use advanced technology to provide excellent feedback while still being forgiving.
While these are touted as lightweight clubs, they aren't the lightest. They are made to feel light by placing a weight in the grip under your hands.
This helps you feel the weight of the club at all stages of your swing. By staying in control, you'll be able to generate more clubhead speed and a consistent tempo without having to change a thing about your swing.
This set is being sold with 5-SW, meaning you get an AW (it's in between the SW and PW). Your 5-iron to 7-iron are designed with a special tungsten-weighted toe to help you harness the power of the best cavity back irons and keep your off-center shots on line.
Do You Have The Right Ball For Your Irons?
The best cavity back irons deserve a great ball to compliment them. Having these two pieces of equipment in sync will have you dialed in when you approach greens from any distance.
Get a ball that suits your style and can add distance so you can shorten every golf course you play.