Welcome to our pick of the best kids golf bags!
Playing golf with your kids is a momentous event in a parent's life. There's no better way to spend time than out in nature practicing a game that will stay with them their entire lives.
Getting your kids started on this amazing path all starts with a bag.
You want your kid to be excited about getting their own golf bag before they even have clubs. Now they can save up their allowance for that new driver they had their eye on, and they have a place to store the balls they find in the forest.
With the picks and tips below, you can spend less time shopping around for the best kids golf bag and soon be on your way to enjoy a great afternoon playing a great game.
Let's get into it!
3 Factors in Identifying The Best Kids Golf Bags
Getting the perfect golf bag is important to keep your child engaged in the game.
The best kids golf bags will keep all their equipment organised and in one place, making their lives easier on the course and at home. Wave so long to lost equipment!
Having a bag they're proud to show off is also a great way to encourage them onto the course. Keep these three suggestions in mind when shopping for the best kids golf bag, and you're guaranteed to put a huge smile on your child's face.
#1: Age/Size
Age is the first aspect to start with. Their size is a huge factor in what bag to get, so they can easily carry it themselves and get the full golf experience.
Younger kids should look for bags that are shorter in length. Some of the best kids golf bags are available in different sizes, so if you have a young golfer who hasn't hit their growth spurt yet, opt for a shorter bag.
#2: Desire And Interest In Playing
If your kid is unsure about their commitment to that game start with something simple that won't break the bank. This will equip them to explore the game, but won't leave you feeling out of pocket if they decide golf isn't their thing.
For kids who are already hooked, you can get something a little more high-tech. Having versatile pockets, a dual-strap system, and sturdy legs will be worth their weight in gold for kids who will spend their summers on the turf.
Buying quality also ensures a long lifespan for the bag, so you won't have to replace it until they're an adult. Then they can buy one for themselves, am I right?
#3: Number Of Clubs They Will Use
Junior golf club sets come in many different sizes. There are starter sets with only five pieces and go all the way up to full junior sets. What your child has will determine what size bag to get.
We recommend always going a bit bigger even if your kid starts with a small interest in golf.
This gives the option to expand and house their equipment over time as their interest grows, rather than having to buy a new golf bag next season because your kid is hooked.
Most junior bags won't fit a full set so pay attention to the dividers that the best kids golf bags offer. This is usually a great indication of how many clubs it can hold. The fewer sections it has, the less amount of clubs you'll be able to fit.
The Best Kids Golf Bags: Our Top Picks
– Patented PING design legs
– Comfortable and easily adjusted dual-strap system
The crown jewel of stand kids golf bags is made by PING. The Hoofer is still one of the most popular bags, and this junior bag takes a lot of inspiration from it.
It has the same hinged legs, making this junior golf bag easy to stand on hills and any uneven surface. The leg pedal is also housed within the bag, so there's no worry about getting it snagged and breaking the mechanism like other bags.
PING was also one of the first companies to make a dual-strap system. They have been perfecting it over the last couple of decades, and now they are more comfortable and straightforward to adjust.
As your child grows, they can adjust these straps themselves to always be comfortable.
The pocket space is ample on this bag with an extra-large ball pocket. The long pocket is fairly large, but not quite as spacious as some of the other best kids golf bags.
This bag is all about cool aesthetics, functional stands, and sturdy legs. It will last all the way until your kids make the high school team and they start paying for the equipment.
– Large pockets to store water, sweaters, balls, and lunch
– Available in different sizes depending on the child's height
This versatile kids golf bag is great for a first-time golfer. It looks like an adult bag, so any kids looking to feel grown up will love this golf bag.
The pockets are the star of the show here as there are many, and the long pocket is surprisingly spacious. It's perfect for holding a large water bottle or even a small lunch bag for junior camps.
The ball pocket is also large, able to hold many balls for those long summer days on the course.
The top cutout handle is very common among adult bags but less used in the junior market. This handle makes it easy for you to carry your child's bag when they are too tired.
The leg system is also the same as adult bags. They tuck away nicely for the days when you want to put them on the cart. It's also available in four different sizes depending on your child's height.
If you plan to ride a lot, then choose a taller bag. It makes it easier to strap to the back of a golf cart.
With four colors to choose from, this is one of the best kids golf bags, and is the perfect way to start your child's journey to the pro tours.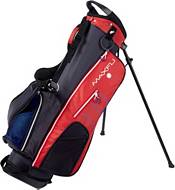 – Great for preteens and taller kids in general
– Extended dividers protect clubs, making them easier to remove and replace
Not all kids are created equal, and as a parent, you probably noticed this when buying clothes. It seems like they outgrow them faster and faster each week.
Opt for something a bit bigger like this Maxfli Youth Stand Bag to prevent that from happening with your kid's golf bag.
It's perfect for pre-teens and any child who is already taller than their classmates. This will be their last 'junior' bag before graduating to adult bags.
Evidence that this is for an older child is in the pocket systems. Two smaller velour pockets are excellent for any jewelry and electronics. It also has two external mesh pockets for a water bottle or wet towel.
While this kids golf bag is only divided into three sections, its dividers go all the way to the bottom. This is great if your child already has a full set because it makes removing and replacing their clubs easy.
The legs are sturdy, providing stable support when the bag is full of clubs and other necessities. It's also outfitted with a dual strap system to make carrying that much easier.
This Maxfli model is one of the best kids golf bags, and we recommend it to any budding junior golfer who is almost big enough for the (more expensive) adult bags.
– Excellent option for part-time golfers and beginners
– Lightweight and compact size makes for easy storage when not in use
A small carry bag like is perfect for kids who aren't sure if golf is for them. It's cheap (around 59 USD), large enough to hold all the essential clubs and accessories, yet small enough to easily store.
It's also a great size to keep for years to come as they become teenagers and adults. While it's small enough for kids to handle, it's still big enough to house adult clubs.
A great kids golf bag for recreational families who primarily play on long weekends or with extended family.
Despite its size, it still has a stand, so you never have to lay it on the ground. This is rare to find in pitch and putt bags.
The one pocket is plenty large to store a dozen balls, some tees, and a golf glove. There's even a cargo net on the side to hold a water bottle or a light sweater.
It comes in an array of color schemes to choose from to make this standing kids golf bag 'stand' out in a crowd.
Golf With Kids? Equipment Is Only Half The Battle.
Now that your child is outfitted with a premium kids golf bag, it's time to start practicing. Give your kid a head start with these 8 Tips To Help Kids Play Golf.
This article outlines the basic steps to initiate good habits and ensure your kids fall in love with the game. It's not all about technique; the more kids can have fun and learn the fundamentals, the better chance they can continue with the game throughout their lives.