Welcome to our guide on the best golf putting aids!
'Drive for show, putt for dough' is one of the biggest cliches in golf. But it's true.
On average, you'll take 30 putts per round (hopefully less). This makes it the most used club in your bag. Conversely, you'll hit your driver a maximum of 14 times, yet most people spend twice as much time and money on a driver than their putter.
You may not want to hear it, but practicing your putting will lower your scores. It's science.
Practicing alone isn't enough, though. You have to practice smart. Focus on your faults to see fast results. For that, you need one of the best golf putting aids.
These 6 putting aids are specifically chosen because they address whichever aspect you struggle with. Whether it's weight, line, or mechanics, there's a putting aid here to fix it.
Choosing to work on your putting is the first step to seeing lower scores. Identify your weaknesses and make them strengths with one of the best golf putting aids available.
Read on as we run you through the 6 best golf putting aids, who they're suitable for, and how they'll help you lower your score. But first, let's examine the most common putting errors . . .
Problems To Address
There are two main areas of putting to focus on. Work on these with purpose, and you'll be taking home more skins than you can count.
Weight
Weight is the most important aspect of putting to work on. Having correct weight on all your putts virtually ensures you'll never have another 3-putt in your life.
Most courses we play don't have crazy undulations as we see on TV. Next time you play, take note of where you miss your putts by taking estimated measurements.
Measure the distance either past or short of the hole and measure how far you were left or right. You'll find that your distance measurements will be in feet, and your left and right measurements will be in inches.
If you can reduce your weight misses down to inches, you'll be rewarded with a lot more tap-ins.
Related article: 5 Tips To Use AimPoint Putting To Drop More Putts!
Line
Not to be overlooked, however, is your line. Proper alignment is the key to making putts when the pressure's on.
You have to be able to align your body away from the hole at times to ensure good weight. It takes practice and confidence to do so. Reading putts is an art that we can learn.
The best golf putting aids will help get your body parallel to the target line. There are still a lot of mechanics that go with improving your line.
Arms hanging straight down
The world's best putters are using these core fundamentals. If you can adopt these, your line will improve ten-fold. It's easier said than done, but thankfully we have the best golf putting aids to help us.
The 6 Best Golf Putting Aids of 2022
– Ensures your eyes are over the ball at all times
– Develops a consistent and fluid putting stroke
One of the most common putting tips that all the coaches can agree on is to have your eyes over the ball. This is a massive advantage to the player since your eyes can now look right down the target line, unlike any other shot in golf.
Practicing this should be your number one priority, and having a putting mirror will help you improve fast.
This is more than just a mirror, though. It will also help you improve the consistency of your putting stroke both on the takeaway and follow through. The mirror is outfitted with many holes to place the included tees. This lets you create gates for your putter head to pass through.
You can customize the tees to focus on your takeaway, follow-through, or both. There is also an option to create a narrow gate at the front while you putt from the back. You will ensure that your putting stroke is on line by getting the ball through such a narrow passageway.
The mirror also helps you keep your head still throughout your stroke. A widespread mistake among amateurs is lifting up at the last second to see where the ball is going. Doing so tends to result in a pulled putt.
This is one of the best golf putting aids because you can focus on the most important aspects of putting by keeping your eyes over the ball, your head still, and a straight-back and straight-through putting stroke.
– Improves the most important aspect of putting; getting the correct weight
– Includes many fun games to play alone or with a partner
As mentioned above, there are two aspects to learn if you want to become a great putter; weight and line. Getting the right weight is purposely listed first since it's a little more important.
Only a few of the best golf putting aids help with this, but even they aren't as beneficial as this one.
It can hardly be called a training aid since it's so fun to use. You and a partner can play plenty of unique games to add a bit of competition to your practice sessions. You can also play these games against yourself to try and beat your previous scores.
The idea here is that you putt your ball up the ramp aiming for a certain color. When your ball rolls back down, it should come to rest within the corresponding color on the mat. So if you putt your ball up to the green line on the ramp, it will roll back into the green section on the flat part.
The dots on the ramps are purposely sized so that they are smaller than a regulation cup. This will help you gain confidence because if you get used to aiming for a tiny target, then a regulation-size cup will look like a basketball hoop to you.
This can be used outside, but it makes a great training aid for those in colder climates. Work on your putting throughout the winter months, so you'll be at the top of your game come spring.
– Best putting aid for short-range putts
– Fits all regulation size cups
Now that your weight is taken care of, it's time to focus on your line.
Having the correct weight will minimize your three-putts; having the right line will increase your one-putts. This tool is perfect for any practice green, and the chances are high that other golfers will approach you, wanting to try it themselves.
The idea is simple, aim small, miss small. This aid fits all regulation-size cups and essentially shrinks them.
Your putts need to be perfectly on line to count. No side-door action with this training aid.
This is great for practicing anything within 10 feet, but it's most commonly used for putts under 5 feet. By training your mind's eye to get comfortable with such a small target, a regulation cup will look huge when you hit the course.
– Clips to your bag so you always have it with you
– Same size as a regulation cup
Since putting is so important, you want to be able to practice it anytime, anywhere. This keychain cup is one of the best golf putting aids that every golfer needs to improve their putting and to keep it sharp.
It's the exact size of a regulation cup, and it's painted white. This will train your mind's eye to be more accurate when you see that bright white color on the golf course.
Keep it attached to your golf bag easily with the included D-ring. This keeps it secure so that you won't lose it, but it makes it easy to detach whenever you need it.
The Odyssey Putt Target makes a great gift and will shave strokes off anyone's game with minimal effort. Simply lay it down wherever you are, indoors or outdoors, and start working on your stroke.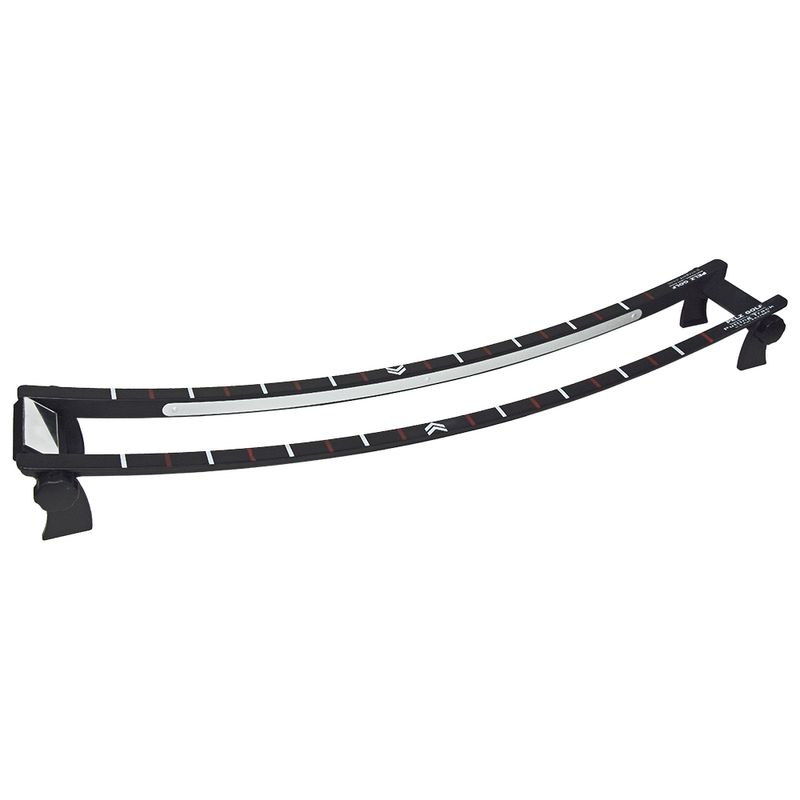 – Ensure the mechanics of your putting stroke are sound
– Includes a mirror to make sure your eyes are always over the ball
You may have seen this one before since it has been one of the best golf putting aids for a few years now. The reason for that is because it works.
There are very few putting aids that help with mechanics. While there aren't many mechanics to speak of in the putting stroke, it's paramount that you get them right to become consistent.
It works by putting it on the green (or floor) and adjusting it to fit your putter's head length. There is a mirror on the back to confirm your eye position is over the ball. The notches along the track ensure your follow-through is just as long as your backswing.
You can also use those notches to monitor your putter face. This putting aid teaches a straight back and straight through method for putts within 10 feet.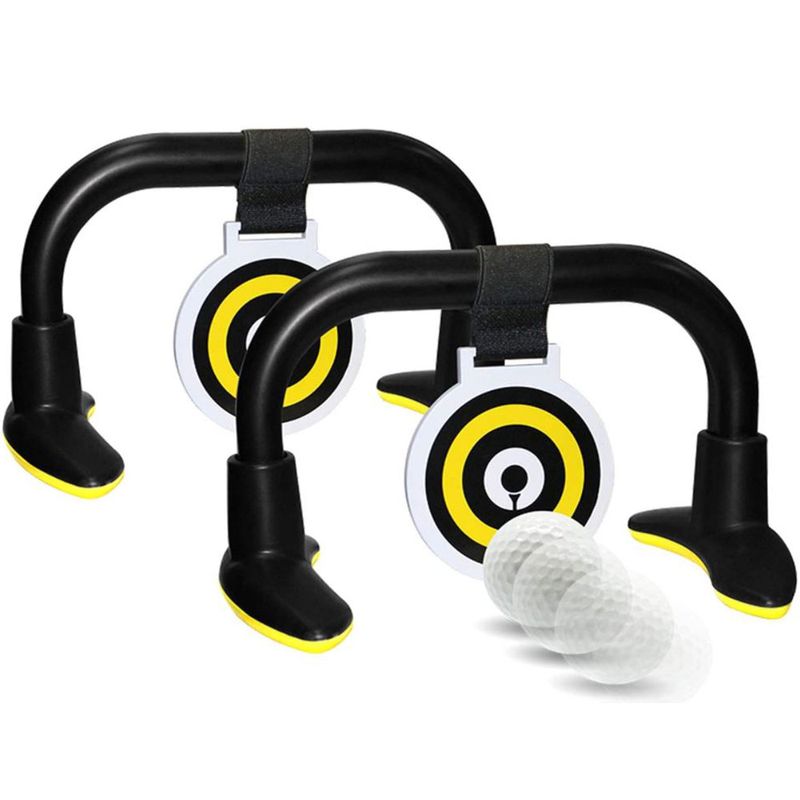 – Includes fun games to play
– Targets hand loose to work on proper weight
Sometimes, the best way to learn is through some healthy competition. This is one of the best golf putting aids because it helps you improve your putting and confidence.
Learning how to win is something that comes with practice. Even with small wins, your brain is still absorbing it as a win and thus, will expect to win more often.
The targets that hang from the holsters will let you know if you hit your putt too hard or not. They are also a bit smaller than regulation cups to help make the cups on a golf course look bigger.
This is a great product for juniors. It makes putting practice fun, which is very hard to do. Having the little targets gives it a 'mini-putt' feel to make it more accessible to kids.
This putting training aid comes with a handy guide as well, which will explain some games to play. They can even be used around the house for an epic mini-golf course.
Conclusion
To find the best golf putting aid for you, first identify whether you struggle more with weight or line. From my experience, most amateurs struggle with weight.
Take note of how far past or short of the hole you are compared to how much you miss left or right. You may be surprised by your findings.
Even though putting is notoriously boring to practice, you won't have that problem with these best golf putting aids. This is how you truly take your game to the next level, so grab your flat-stick and hit the practice green with one of the best putting aids available.
keep improving your putting with these tips!
While you're waiting for your best golf putting aid to arrive, you can get a head start by doing these 7 things first. Establish these fundamentals, and you'll start seeing a lot more 1-putts on the greens.