Golf requires consistent practice, but poor weather or a lack of time can be barriers to putting in the hours you need.
Using a golf simulator is a great solution, allowing you to brush up on your technique in the comfort of your own home.
Top-notch simulators can be very expensive, often running into tens of thousands of dollars.
They can take up an enormous amount of space, too.
But there are also some cheap golf simulators available, ranging from ultra-budget models for fun with the family to more sophisticated versions for serious practice.
In this guide, I'm going to share with you some of the most affordable models on the market along with the pros and cons of each.
But before we get to those, let's take a look at the key features to look for in cheap golf simulators.
What to Consider Before Buying a Golf Simulator
When choosing a golf simulator, the first thing to think about is just how you'll be using it.
This guide includes a couple of very affordable options, but it's important to note that these will offer only the most basic features.
While they are ideal for fun games with friends and family, they won't give you the detailed analysis of each shot you'll need to develop your game.
That's because the technology to measure the data related to your shots and simulate the flight of your ball comes with a high price tag.
Be prepared to invest more if you are looking for a more useful tool to help you identify your strengths and work on your weaknesses.
When choosing which is best for you, also consider:
#1: Size and Available Space
The good thing about cheap golf simulators is that they tend to take up far less space than the more expensive models, making them ideal for most homes or garages.
Make sure that the space you have available provides enough room for you to swing your driver safely, as this is your longest club.
The exact dimensions needed tend to vary from one simulator to another, but you'll usually need to allow for a depth of around 18 feet, a width of 12 feet, and a ceiling height of at least 9 feet.
#2: Information Gathered
At the very least, you will want to receive basic feedback about your shots, including your ball speed, swing speed, and shot distance.
But to really perfect your skills, look for cheap golf simulators that offer other useful metrics, such as swing path, spin rates, and angle of approach.
#3. Portability
If you have a dedicated place to practice in your home, portability isn't too important.
But if you want a model that you can take with you when traveling – or that's easy to disassemble and store during the months that you can practice outdoors – avoid choosing a ground-based or ceiling-mounted system.
Ideally, choose a model with a retractable screen and enclosure system, as these are easy to disassemble at the touch of a button.
The Top 6 Cheap Golf Simulators
| | |
| --- | --- |
| Pros | Cons |
| Up to 4 players | Needs to be paired with an HDTV or projector |
| Includes 15 premium real-world golf courses | Won't work properly near infrared light sources |
| Multiple game modes | |
This is more like a game for all the family rather than the type of golf simulator you'd use to enhance your skills, but in that respect, it's great fun and one of the best you can get!
Using an infrared sensor to track club speed, carry distance, face angle, path, face contact, and tempo, it comes with adjustable rubber tees and two foam practice golf balls.
But you can use real balls (if you have a net) or no balls at all if you prefer, because the main purpose of this simulator is to analyze your swing.
Also included is a mat, plus a hitting net that offers a convenient automatic return.
Up to four people can play full rounds of golf and there are different modes to keep things interesting.
You can even treat yourself to the OptiShot Season Pass which allows you to play against golfers from all over the world and compete in tournaments for real prizes.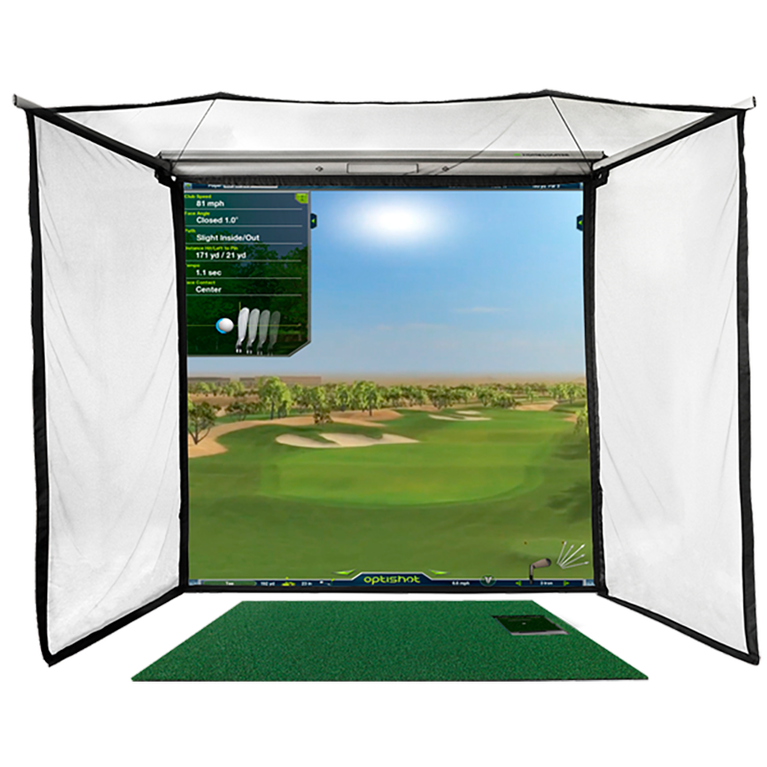 | | |
| --- | --- |
| Pros | Cons |
| Includes 15 world-renowned courses | Adapter needed for Macs with a USC-C port |
| Up to 4 players | |
| Retractable screen enclosure from HomeCourse | |
This award-winning model carries a heftier price tag than the standard Golf in a Box simulator but gives you a far more complete experience.
Easy to set up – with no special tools required – it features a ballistic-grade projection screen that can withstand the impact of real golf balls.
It also descends and retracts in just 30 seconds.
Sky netting and pro-arms create an enclosure to protect your home and family members from stray shots, with a pro-arm extender tool included.
The high-quality turf has a realistic feel and is replaceable – helping you extend the life of the simulator – and the short throw projector provides vibrant, clear XGA resolution images.
#3. Best Cheap Golf Simulators for Portability – Trugolf Vista 8
| | |
| --- | --- |
| Pros | Cons |
| Vivid, high-definition graphics | Pricey compared to other models |
| 1 Year E6 connect basic subscription (27 courses) | |
| Lightweight | |
Allowing simultaneous play for up to 8 golfers, the Trugolf Vista 8 uses a unique tension system to hold the impact screen firmly in place, so you get a consistently crisp, clear image.
It is one of the most portable golf simulators in this guide, with a lightweight but sturdy aluminum frame that's easy to assemble and take down.
Trugolf's proprietary TruTrack2 Tracking System gathers information on 8 different ball and club data parameters, whilst the virtual courses included in your E6 subscription provide a variety of settings to keep your games interesting.
These include adjustments to the time of day and course elevation, plus a boost setting for beginners, gimme distances, and automatic scoring.
Once your free year's subscription has expired, you can renew the basic version (currently $300 per year) or upgrade to the expanded version (currently $600 per year), which gives you access to all courses in the E6 Connect library.
| | |
| --- | --- |
| Pros | Cons |
| Uses the latest version of the Mevo+ launch monitor | Must use silver stickers (provided) for accurate tracking |
| Includes the E6 simulation software package with 10 courses | |
| 17 practice ranges | |
This is an excellent package to consider if you are looking for an efficient but budget-friendly way to practice your game at home.
It contains the Mevo+ (2023 edition) – a launch monitor that uses Doppler radar tracking for accuracy and which earned the Golf Digest Editors' Choice Award.
It provides action video clips with data overlay to help you analyze your performance and 15 accurate data parameters, with the ability to save, upload, and share each session.
Also included is a SIGPRO golf net that's super simple to assemble, with a snap-button frame system that gets you up and running in minutes, along with two side barrier protective nets.
You also get a realistic feeling SIGPRO turf golf mat to fill the gap between your hitting mat and the net.
There's the option to upgrade this package if you wish, with the 'Pro' add-on unlocking 11 further metrics and the 'Face Impact Location' add-on helping you work on consistently making contact on the center of the club face.
Suitable For: Indoor and Outdoor Use
| | |
| --- | --- |
| Pros | Cons |
| Analyzes your swing speed | Swing stick feels different from a real club |
| Compatible with the WGT and E6 Connect apps | PhiGolf app is not very intuitive |
| No accessories required | |
Requiring minimal setup and very little space, PHIGolf's Smart Home Golf Simulator comes with a swing stick with a built-in motion sensor to analyze your swing.
If you prefer a more realistic feel, you can insert the sensor into your club instead, but an important point to note is that you're never actually hitting a ball – this is all about the swing.
Putting posture analysis is included and the simulator allows you to visually check head speed, swing frequency, club path, face angle, and shot distance data to help improve your consistency.
The swing stick is small enough to use safely pretty much anywhere, whilst the compatibility with 3 different apps gives you access to more than 80 courses.
| | |
| --- | --- |
| Pros | Cons |
| Highly accurate | Highest price tag in this guide |
| 1-Year of Gold software subscription included | Software subscription required to access certain metrics |
| Launch monitor can also be used outdoors | |
From a leading brand in the sports optics industry, this package contains everything you need for a complete indoor golf experience.
These include a frame, high-impact projector screen, hitting mat, turf strip, projector, and computer cart.
The launch monitor uses a combination of high-speed, high-resolution cameras and infrared to deliver accurate data on every shot.
The range of metrics it gathers is impressive, with detailed ball launch data and consistent club data, including club head speed and smash factor.
It's important to note, though, that you'll need to extend your subscription to Foresight Sports once the free year has expired in order to access all your data (this is currently $699 per year).
Without the subscription, certain metrics – including your angle of attack, club path, and some spin-related data – are unavailable.
Unlike some radar-based systems, Bushnell's launch monitor is also accurate outdoors, which means that you can also use it to practice on the range as well as in your simulator room.
The 6 best Cheap Golf Simulators: Key Takeaways
Using a golf simulator is a great way to get in some extra practice both on and off the range and help improve your technique.
The accuracy of the Bushnell Launch Pro is hard to beat if you want to thoroughly analyze your performance, but for fun with friends and family, the simplicity and relatively low cost of the Phigolf2 and Optishot 2 make them ideal.