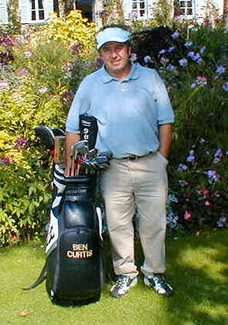 Andy Sutton (CaddyBytes.com)
ENGLISHMAN ANDY SUTTON IS THE CADDIE for Ben Curtis, PGA Tour player and member of the 2008 U.S. Ryder Cup team. But Sutton won't be pulling for his boss or the Americans in the 2008 Ryder Cup matches next month in Louisville.
"He's rooting for Europe," Curtis told USA Today.
"It would just be better to get an American on my side. We were both pretty mutual about it. He said he'd really do it if I really wanted him to, but it would work better if I found an American."
Curtis and Sutton decided to part ways during Ryder Cup week, but the Englishman will be back on the bag thereafter.
−The Armchair Golfer

Related:
2008 Ryder Cup Report
2008 U.S. Ryder Cup Team Takes Shape